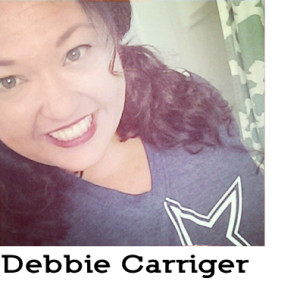 …but not so well as the piece I left in San Francisco.  You know the song, I Left My Heart in San Francisco…a cheesy song we've heard a thousand times…but chances are, if you've spent some time in the San Francisco Bay Area, you want to go back again. This is the first of our Local Genie Blogs we are bringing you where a local resident tells us where they would take us if we popped in for a visit.  It's a combination of top tourist sites and local treasures.  When someone comes to visit, you have to take them to some iconic sites before you can treat them to your favorite things.  Local Genies will give us a virtual tour that will inspire us to pack a bag and see for ourselves.

Local Genie, San Francisco:
Debbie Carriger, Founder and CEO, TravelGenie Registry
I must confess, while I lived in SF (do not call it SanFran, locals will cringe) for 18 years, I've recently been wandering about in Austin, TX and Atlanta, GA.  But I'm headed back to the city I call home after being gone for four years.  Hallelujah!  People often ask me, why do you love San Francisco so much?  For me, it's the smell of ocean mixed with eucalyptus. It's the public transit, the amazing diversity of food, access to arts and culture, the Giants, and well, the people.  Oh, the people!  They come from everywhere, their hearts are big. They are fearless and therefore inspirational.
Having had so many visitors over the years, I have a mini-catalogue of tours I give.  A gal has to mix it up, ya know?  Kodak moments are arond every corner.  For first timers who are here for a short time, I like to  do this one:  Chinatown, Northbeach and Fisherman's Wharf.  Dont worry, I have the Golden Gate in one of my tour days too.
To start, I need to ply you with some hot coffee or hot chocolate at Cafe de la Presse on Bush and Grant, right outside the Chinatown Dragon Gate.   This cafe's newsstand offers more than 500 international titles and it's a great place to rest your feet if you've been shopping in Union Square.  Even though you took my advice and dressed in layers  (SF is full of microclimates and it's best to be prepared), we'll let the hot chocolate warm you up.   We'll sit outside and watch the tourists and locals pass through this busy intersection before venturing out again.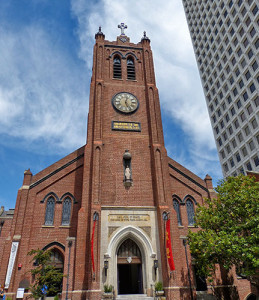 It can be easy to miss out on this ornate entrance to Chinatown's treasures.  I will make you walk through the arch and touch one of the dragon figures ~  It's good luck!  As we walk up Grant street and peruse the offerings we will walk past California's Oldest Cathedral, Old St. Mary's Cathedral.  If you like, we can go in and take a few pictures.  The large clock on the outside of the cathedral tell us: "Son, Observe the Time and Fly from Evil", a good reminder for young men who frequented the local brothels in the mid 1800s.  
Chinatown is the best place to get small souveniers to take home with you or to buy fun and interesting birthday gifts for your friends.  There are numerous shops offering a range of items such as postcards (yes, get those now, they are cheaper here.  and if you write and mail them at the top of your trip, they will get home before you do), t-shirts, Chinese shoes, tea sets and jade jewelry.  I like to get some of the colorful parasols, little trolly car ornaments, tiny buddahs and paper stars because they will all fit well in a suitcase.  We'll keep meandering towards North Beach stopping where ever strikes our fancy.  I love the tiny little shops here.  We can lunch at my favorite little Italian place right across from Washington Square Park, Michelangelo Ristorante & Caffe, where the gnocci is divine, the house wine is served in a chicken pitcher and your check comes with amoretti and gummy bears. We will probably have stopped at  Mara's Italian Pastry for a sweet treat to enjoy (mmm. cannoli!) as we sit in the park acros from Sts. Peter and Paul Church and people watch. Sounds like a lot of sitting but trust me, you won't be used to those hills and while this walk is an easy one, you'll thank me.  Once we feel like walking we'll head over to the infamous City Lights Books where we can browse and purchase some great reading material. We'll wind up our afternoon at the historic Vesuvio Cafe on Jack Kerouc Alley with a pint and a pen to write out those postcards.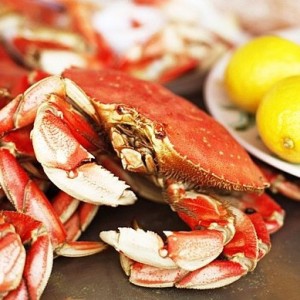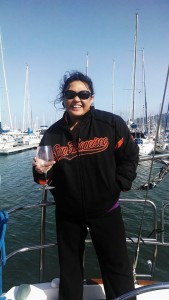 Some of you will need a nap at this point or perhaps you are ready to drop off some of those shopping bags  so we'll head for a rest so we can all recharge. Once we get a bit of a respite (read nap),  a taxi can take us to Fisherman's Wharf for dinner.  We have a couple of options here, we can buy some fabulous seafood at the stalls in Fisherman's Grotto and eat out of the paper bins standing in the midst of it all or if we want to spend a little more, we can go inside  one of the amazing italian seafood restaurants for some dungeness crab and wine.  Lucky for us, SF's crab season is from November to June.  My two favorite restaurants in this area are Scoma's and The Franciscan.  The former  is darker and cozy and still has a mom and pop feel to it and the latter has been spruced up with red leather booths and glass and pics of old movie stars.  I love both.  They are the only reason, except giving you a tour, that you would find me in this tourist filled mecca of SF.

After dinner , we will probably walk along Bay street, exploring the shops, maybe take a detour to Lou's Fish Shack upstairs for some Blues (I've never eaten there). There are plenty of souvenier shops here in Fisheman's Wharf for grabbing those mugs or Alcatraz  onsies you need to add to your gift list.  We'll pass the boats and end up on the grassy park at the Lagoon.  We can watch the boats and listen to the ocean waves for a bit before heading uphill.  Why there?  Becuase that's where chocolate is: Ghiredelli Square .  Everyone gets a sample in the store and you can buy some to take home too.  I'm here for the icecream.  The shop has a machine to make chocolate in the back and is always busy.  There's a beautiful mermaid fountain and some tables and chairs on that level for ocean viewing if the crowd is too much for you.
We've packed a lot into one day but there's one last stop.  You can't leave SF without an Irish coffee at the Buena Vista, where they were invented. The cable car stops right outside, we can take it home when you are ready.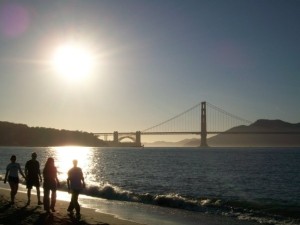 Come visit my city;  I'll be happy to take you on one my signature tours!
Ready to head to San Francisco?
CREATE A REGISTRY CONCIERGE SERVICES CREATE A CROWDFUND CAMPAIGN
Follow TravelGenieRegistry's board Paris, France on Pinterest.